Where Have You Been All My Life?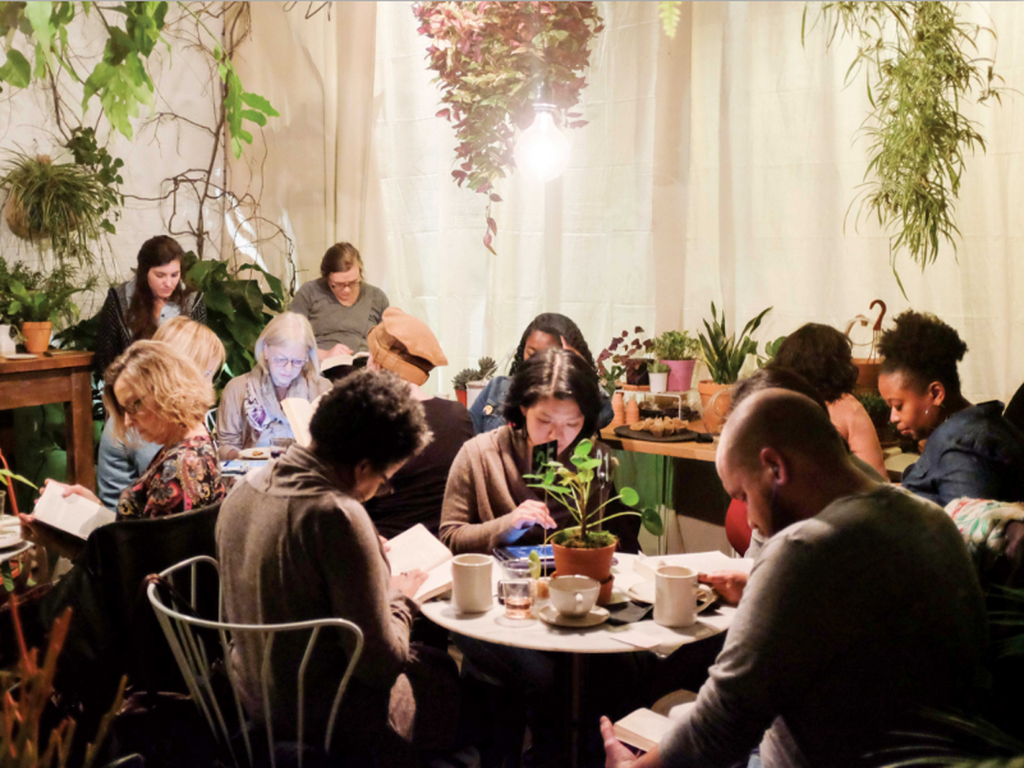 I first heard about Silent Book Club while browsing through Poets & Writers Magazine. Their January/February 2017 issue included a short article called Dear Readers, You Are Not Alone. The article described a new trend in book clubs whereby people basically hung out reading together. The concept blew me away.
This new type of book club discarded the aspects of traditional book clubs that I loathed, while keeping the aspects I loved. Dispensed with were rules about which books people were supposed to read and discuss. Retained were social gatherings of book lovers, discussions about books and ideas, and food and drinks.
In the preceding years, I had nursed a love-hate relationship with book clubs . . . that had devolved into a hate-hate relationship. Book reading is inherently personal. It's also inherently time consuming. Locking myself into a social group that would dictate how I spent my reading time never felt good to me. And yet I yearned for the camaraderie and idea swapping that a group of book lovers can provide.
Upon finishing the Poets & Writers article, I felt an incredible sense of awe and clarity. It was as if I were in a pop song, singing "Where have you been all my life?" I went online to seek the closest Silent Book Club to my home.
Well, the closest one was a 40-minute train ride away. Doable, I supposed. Realistically, though, I knew I wouldn't keep a commitment to attend on a regular basis. So I started my own club, at a venue more local to me, using the instructions conveniently provided by the international Silent Book Club organization.
This was one of the best decisions I have made in my life. It ranks right up there, in my mind, with becoming a runner, majoring in English, and acquiring my chickens—but those are different stories! The first meeting of my Silent Book Club, in Rockville, Maryland, occurred in March 2017.
At that first meeting, reading silently among my new friends, I was in literal (and literary!) bliss. But the silent reading aspect of Silent Book Club is only one part of its charm. Here are some of the advantages of joining or starting a Silent Book Club:
Meeting lifelong friends

Learning about new books to read

Discussing interesting ideas

Getting personal reading done

Networking with smart, interesting people

Enjoying food and drinks at fun venues
Traditional book clubs show no signs of fading away, and that's a good thing. They have lots to offer, and many people love them. However, they are not for me. I am grateful for the variety of book club options available. Each of us has the opportunity to find the style of book club that best fits our own personality. Silent Book Club fits mine perfectly.
As they sing in pop songs, "I'm so glad I found you, baby!"
Liza Achilles is a writer and Silent Book Club organizer in Rockville, Maryland. She blogs about seeking wisdom through books and elsewhere at lizaachilles.com.