In Conversation with Vera Kurian & Catherine Adel West (Spoiling Dickens)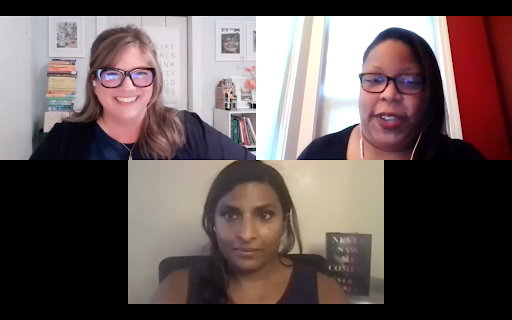 Guest author Abbey Lile-Taylor is the new Events Director at Silent Book Club, the organizer of SBC Online, and Executive Bourbon Steward at Distilled Living. 
The pandemic has been a trying time for the entire world, but, thankfully, there are quite a few highs to help offset the multitude of lows, including my personal favorite: unlimited access to author events. Now, instead of having to rely only on writers visiting libraries and bookstores near me, I can sit in my pjs, drink my own (significantly cheaper) wine, and listen to novelists I would not normally get to hear speak. To be perfectly honest, I've become spoiled. Once everyone is vaccinated and the word Corona reminds us more of beer than of being sick, I'm hoping this trend will remain intact. 
So it should come as no surprise that it brought me immense joy to [virtually] sit down and chat with Catherine Adel West, author of Saving Ruby King and Vera Kurian, author of Never Saw Me Coming - both of whom are published by Park Row Books. And while I may not have been slugging back chardonnay or wearing my favorite "Read More Books" pjs, I was able to ask the burning questions which were prodding my brain. 
Full disclosure, Saving Ruby King is not my typical go-to. I tend to stick to my familiar magical realism, supernatural type books or my women's lit and cozy mysteries. (I'm an Escapist Reader.) However, over at Silent Book Club Online, we've started a monthly theme and August just so happened to be "Out of Your Comfort Zone." Ruby King fit the bill!
I was easily pulled in by Catherine's prose and unique storytelling, so being able to actually ask her the reasoning behind some of the POV choices she adopted was like a dream come true. Not to mention, Catherine Is A Riot. She had me throwing my head back and cackling multiple times throughout the evening. But what I found so admirable was how she could also take us into a meaningful conversation regarding assumptions about the African American community that are still presumed today.
Never Saw Me Coming, on the other hand, is right in my wheelhouse. I am a sucker for a campus mystery, especially this time of year, and Vera delivered! This story inhaled me on page one and, as I entered the final fourth of the book, I was annoyed at myself for not being able to read faster. Now, I'm going to brag for a second... I am really good at figuring out the who of a whodunit. I can pick them out half way through and feel pretty confident in my hunch, however, I changed my mind on who I thought the murderer was at least 5 times all the way up until the end.
During our chat, I was fascinated listening to not only author Vera Kurian, but also Dr. Vera Kurian and how her PhD in social Psychology drove the characters in her story. We, as the audience, may only see psychopaths, but Vera took an overused trope and turned it on its head. The one detail that stays with me even now was Vera's openness about how it really feels to be a 'published author.' We all have an idea in our heads of the euphoria we would feel if it happened to us; instead, Vera spoke candidly about her feelings of panic, anxiety, and waiting for the other shoe to drop. As someone with massive anxiety, I can absolutely relate.
It was such a pleasure to speak with Catherine and Vera, and I thank HTP/Park Row Books for giving me the opportunity. I look forward to seeing what these two debut authors have for us in the future. I will be the first in line to pre-order!