Let SBC Help with Holiday Shopping!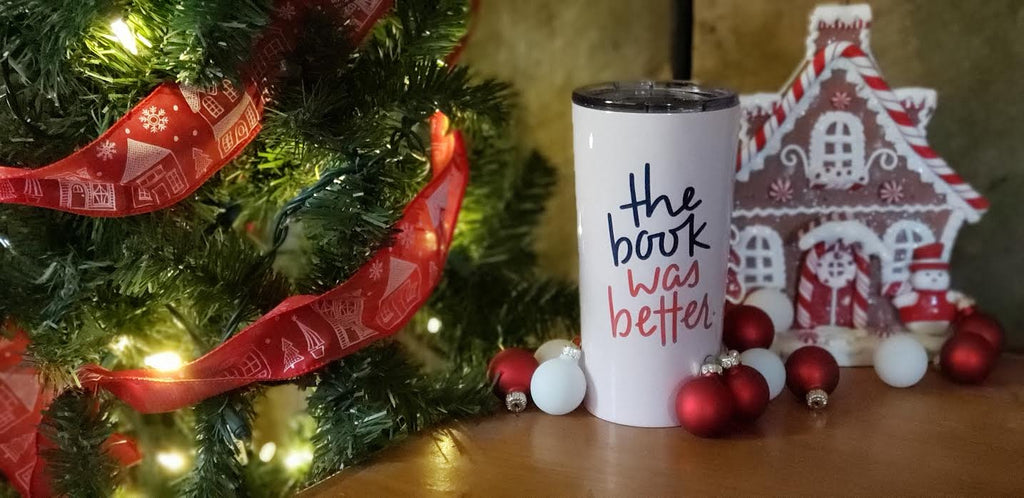 Let's be honest, besides a new stack of novels, the next best gift for bookworms is book merch. And if you're reading this, there's a really good chance that you have some friends whose holiday wishlists are begging for bookish treats. (Not to mention, it's the perfect way to fill up an I Wish It Were Mine list to slip into the hands of your honey.)
Well, today is your lucky day because Silent Book Club has a little bit of everything for everyone…
The children are nestled, all snug in their beds, 
While visions of SILENCE dance in your head.
Let SBC's new Aromatherapy Candle take you to your hygge place while you color your exhaustion away.
One of our favorite mottos at Silent Book Club is read, wine, repeat. But as the days get shorter, there's nothing better than curling up with a book and a hot cuppa. Now you can keep your wine chilled and your tea warm with a Silent Book Club Insulated Cup. It's the perfect beverage carrier to keep your thirst quenched while reading your favorite thirst trap.
It's getting cold out there! Time to cozy up in the Embroidered SBC Zip-Up Hoodie with your favorite feel-good read. This hoodie is cute enough to wear to the library to pick up your stack of holds, and soft enough to pair with PJ pants so you can curl up in front of the fireplace.
Holiday plans are Exhausting! Use our Sorry I'm Booked adult tee and a strategically placed book in your hands to let your politics-talking relatives know that you've got better things to do.
Anyone else's Christmas Day look like this? 
- Wake up at the crack of dawn
- Celebrate at home
- Celebrate with grandparents
- Celebrate with other grandparents
- Stumble into bed, fall into coma
You are going to need *at least* three books to get you through that kind of day. (Might I suggest these festive gems?) So instead of trying to carry all that extra weight, pack up your favorite e-reader in our All Readers Welcome e-Reader Pouch!
Don't forget to take some time for yourself this time of year—and by that I mean huddle in a corner and read, read, read, to keep your sanity! You can find a list of Silent Book Club reader favorites on Bookshop.org.
Happy winter holidays to one & all! 
Like what you see?