Epidemics, Plagues, and Isolation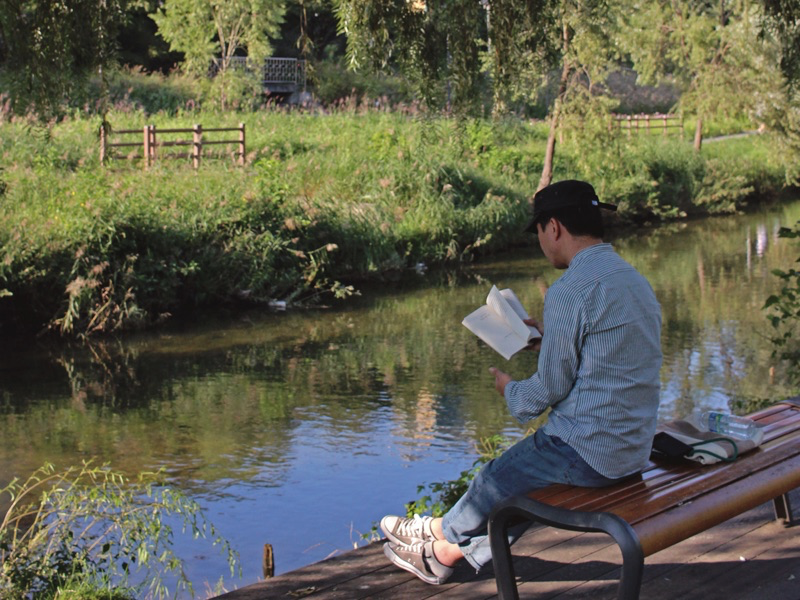 Liza Achilles is a writer and Silent Book Club organizer in Rockville, Maryland. She blogs about seeking wisdom through books and elsewhere at lizaachilles.com.
I was commiserating recently with a friend and fellow Silent Book Club member about our intensified distractibility during this trying time of coronavirus and shelter-in-place. We just can't seem to read anything that's not related to disease or quarantine. We can read news articles – in fact, we have been devouring them – but the novels and nonfiction books on our shelves aren't getting read.
My friend, being a very smart friend, started spontaneously listing, off the top of her head, books that she felt like reading, or rereading, right now. Her spontaneous list stretches back into history and moves into the present. The readings she thought of explore how people cope, and have coped, with disease and quarantine. 
It was such a great list that I wanted to share it. Some people might think this list is morbid; but I personally find comfort in reading about people who have experienced struggles similar to what I'm going through. It makes me feel less alone in my struggles. So perhaps this reading list, which delves deep into issues of life and death, love and horror, isolation and fear, but also sociality and cheer, may help some of you find the comfort and distraction and hope you seek.
Disclaimer: I haven't read any of these texts myself. But that's going to change, real soon.
The Diary of Samuel Pepys (1660-1669)
This is a true account of life in the 17th century, written by a man who lived through the Great Plague (a.k.a. the bubonic plague), which struck London in 1665. 
Samuel Pepys (1633-1703) was an Englishman who kept a diary between 1660 and 1669, while he was in his 20s and 30s. The diary was published two centuries later, in the 1800s, as an important historical document. The diary is an eyewitness account of not just the Great Plague, but also the Great Fire of London and the coronation of King Charles II (a.k.a. the Restoration).
A Journal of the Plague Year by Daniel Defoe (1722)
In the early 1700s, the novel as we know it had not yet been invented. Daniel Defoe started writing long-form works of fiction, most famously Robinson Crusoe (1719), which are now considered some of the first novels to be written in English.
A Journal of the Plague Year is a work of fiction that reads like nonfiction. The book is presented as the "true" journal of a man who lived through the bubonic plague that afflicted London in 1665. Even though the book is fictional, it brings history to life and really does seem like an eyewitness account of the Great Plague.
"The Machine Stops" by E.M. Forster (1909)
In this science fiction short story, people live underground and rely on a machine for their needs. Forster, in this story, imagined the invention of technologies that are eerily similar to the Internet, instant messaging, and other digital tools that today, only a century later, are ubiquitous and taken for granted.
E.M. Forster, as you book lovers may know, is more famous for his novels than his short stories. His most famous works are the novels A Room with a View (1908), Howards End (1910), and A Passage to India (1924). But this short story sounds worthy of a read.
Plagues and Peoples by William Hardy McNeill (1976)
This is a seminal nonfiction text that explores the epidemiological history of the world. It describes epidemics in different times and locales and shows how disease made a huge impact on the course of history. Topics explored include smallpox in Mexico, the bubonic plague in China, the typhoid epidemic in Europe, and the beginnings of the AIDS epidemic.
Love in the Time of Cholera (El amor en los tiempos del cólera) by Gabriel García Márquez (1985)
The Colombian Nobel-prize-winning author Gabriel García Márquez wrote this novel in his native language of Spanish. It was translated into English a few years later. While the novel's themes center on love and heartbreak, cholera and disease are also prominently featured. García Márquez plays on the idea of love itself being a disease.
Year of Wonders: A Novel of the Plague by Geraldine Brooks (2001)
This work of historical fiction takes place during the Great Plague (a.k.a. the bubonic plague) that afflicted England in 1666. The novel was an international bestseller and was chosen as a notable book by the New York Times and the Washington Post. A housemaid in a rural village has to cope with the horrors of people dying, witch hunts, and seminal questions surrounding love and duty.
Finally, I'd like to offer two suggestions of my own, since they just now popped into my head (I have read these):
The Decameron is a collection of stories written by the Italian author Giovanni Boccaccio in the 1300s. The premise of the stories is that a group of friends decide to self-quarantine to escape the Black Death (a.k.a. the bubonic plague) that afflicted Italy in 1348. Instead of dwelling on the negative, the friends decide to tell romantic stories to pass the time. So the book is a collection of fun and frivolous stories. It's perhaps akin to the fun and frivolous memes floating around Facebook nowadays, which people are using to generate laughter and distraction during hard times. 
Severance, by Ling Ma, is an apocalyptic novel published in 2018. It's about a disease that originates in China and spreads to the entire world, including New York City, where the protagonist, Candace, lives. Candace must cope with being one of the last people alive on Earth. I loved this book; it was a quick and fun read with some very interesting themes and ideas. (I wrote about this novel's theme of severance from other people in three posts on my personal blog.) It's uncanny how many similarities there are between events in this novel and today's ongoing drama.
I hope this reading list helps to keep you mentally occupied, stimulated, and comforted during this historically significant year of 2020.
Stay safe, and happy reading!