Acts of Omission - Virtual Silent Book Club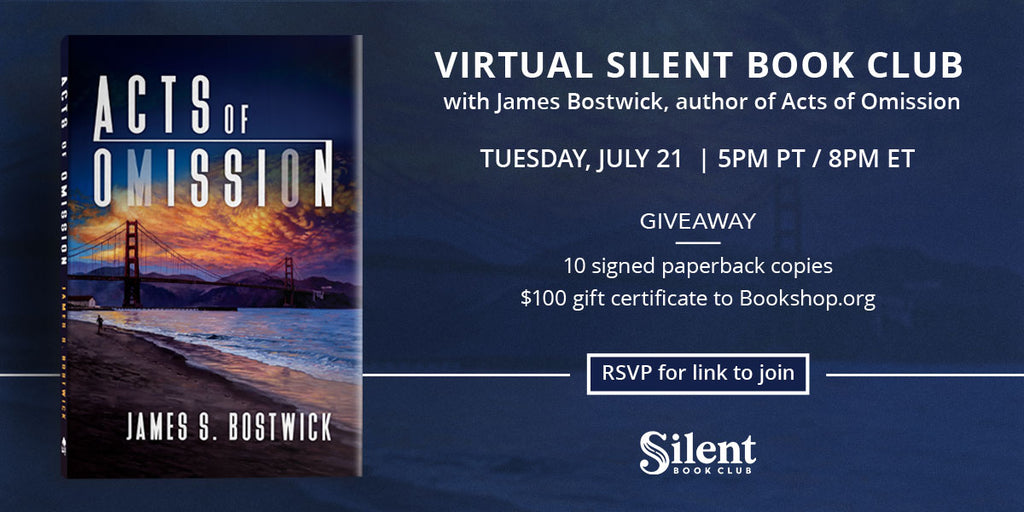 Join us on Tuesday, July 21, for a conversation with James Bostwick, a renowned trial lawyer and author of the legal thriller, Acts of Omission. Set in San Francisco, the novel is loosely based on a case Bostwick tried in 1984 when he went up against one of the country's most famous attorneys to seek justice for a devastatingly injured teenager.
RSVP here and enter to win a $100 gift card for Bookshop.org!
Down on his luck after a string of lost cases and a recent divorce, personal injury lawyer Matt Taylor hopes his next trial will be an easy win. But when he meets a devastatingly injured young man desperate for help, Matt finds himself embroiled in an impossible lawsuit against Salvatore Conte, a powerful lawyer with sinister connections. Despite all warnings, Matt courageously pulls out all the stops to uncover the truth and right a horrific legal wrong. What follows is an epic multi-million-dollar battle of wills, intrigue, and outright violence that could cost Matt everything he cares about—his career, his family, his heart….and his life.
As a voracious reader of legal fiction, Bostwick decided it was time to write his own novel, one that realistically depicts the difficult choices, high risk, ethical dilemmas, anguish and euphoria of everyday life for civil trial lawyers. "There are a lot of works out there that reinforce ambulance chasing stereotypes and present skewed or false views of the selection and preparation of trials," says Bostwick. "So after years of pondering writing a novel, I finally wrote Acts of Omission to correct that deficiency." 
RSVP here and enter to win a $100 gift card for Bookshop.org!
About the book
At its heart, this legal thriller is a soul-searching exploration of the meaning of friendship, love, and loyalty set in the maelstrom of a stunning courtroom battle. Fast paced, with surprises at every turn, this is a compelling page-turner filled with duplicity, sacrifice, heartache, and bare-knuckle legal brinksmanship. It is a searing tale of a legal system gone awry, where greed and power fight an unending battle against a young lawyer's willingness to risk everything in his quest for justice. 
Paperback: $16.99
Publisher: Post Hill Press
Pages: 432
Dimensions: 6.0 X 1.2 X 9.0 inches | 1.3 pounds
Order the book on Bookshop.org where 10% of every purchase supports independent bookstores. 
 About the author
James S. Bostwick is a nationally recognized trial lawyer with over forty years of experience. In this first novel, he uses his vast experience to provide a rare glimpse into the world of civil trial lawyers, what motivates them, the enormous risks they take, and the choices that define them professionally and personally. 

Bostwick is an invited member of the Inner Circle of Advocates (limited to the top 100 plaintiff's trial lawyers in the U.S.), and is a past President of the International Academy of Trial Lawyers (limited to the top 500 plaintiff and defense trial lawyers in the U.S.).

He has received many honors and awards for his work as a civil plaintiff's trial lawyer. Bostwick has obtained several record results for his clients over the years, including the largest medical malpractice jury verdict in U.S. history. The father of five, he practices law with his son and with his law partner of over twenty years in the San Francisco Bay Area, where he lives with his wife and their two dogs. 
Learn more about the book
Acts of Omission on Facebook 
Acts of Omission on Instagram 
James Bostwick on Facebook