SBC's Favorite Books of 2022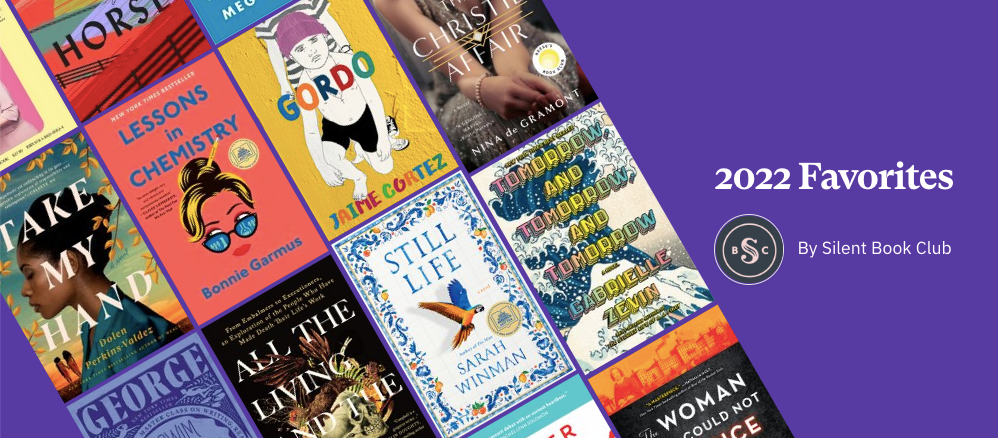 Confession time. My favorite part of a Silent Book Club meetup is the not-silent part, where you get to meet nice people, talk about books, and get recommendations for what to read next. Avid readers are always on the lookout for the next great read, and with so many new books coming out each week, it can be hard to keep up. 
And god forbid you get stuck in a slog! I hereby give each of you permission to abandon any book you're not thoroughly enjoying. Life's too short to treat reading like a homework assignment. DNF that nonsense and move on! Get those books out of your house, too. Don't leave them on a shelf taunting you to try again another time. Drop them into your nearest Little Free Library, donate them, or sell them back to a used bookshop. Someone else might love the book. But you don't have to. 
Now that we've gotten the "different people have different tastes and that's totally fine" speech out the way, let's get to the recommendations! We polled local chapter leaders and the Silent Book Club Facebook group to find out what SBC readers loved in 2022, and compiled the results into a Bookshop list. Not all of the books included were published in 2022—we wanted to know what folks read and loved this year regardless of when it went on sale. (We'll leave the year-end publishing roundups to The New York Times and NPR). 
Topping Laura's list was The Candy House, by Jennifer Egan, and Guinevere was torn between Tomorrow, and Tomorrow, and Tomorrow by Gabrielle Zevin, Braiding Sweetgrass, by Robin Wall Kimmerer, and Sea of Tranquility, by Emily St. John Mandel. Oh! And And Lucy by the Sea, by Elizabeth Strout. And Olga Dies Dreaming, by Xóchitl González and Vladimir, by Julia May Jonas. Don't ask me to choose favorites. I am incapable. See all of the SBC community favorites on Bookshop.
Folks tend to have Strong Opinions about book tracking, whether by Goodreads or spreadsheet or bullet journal. I honestly give not a single hoot about how other people enjoy their books. Personally, I use Goodreads. It's the only way that I can remember what I've read, which is especially handy when it's time to write these year-end round-ups. I do set a yearly reading goal (52 books, sometimes I hit it, sometimes I don't), and I get a kick out of spending my holiday break trying to read like hell in a sprint to the finish line. This year I have 6 books to finish in 2 weeks, and now that I have all these SBC recommendations in hand, I've got it in the bag.
Here's wishing you all a relaxing holiday! Thanks for being a part of Silent Book Club and sharing your reading time with us this year. We appreciate you all, especially our local volunteer organizers and online moderators. See you in the new year!
---
Subscribe to our monthly newsletter to get posts like this delivered to your inbox. Sign up for free at silentbookclub.substack.com