Laura & Guinevere's Best of 2019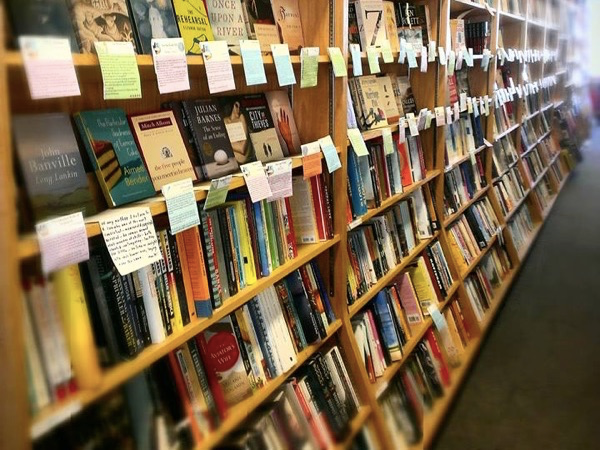 It's the end of the year, so SBC co-founders Laura Gluhanich and Guinevere de la Mare sat down to round up their favorite reads of 2019. Hope you enjoy!
Laura
As is my usual, I am behind the times when it comes to publications. Ask me about my favorite 2019 music releases and I've got you covered. But for books, my favorite reads of this year include those that came out in the past few years. It is a fault I've accepted in myself, and I hope you will forgive it as well. 
In no particular order, here are my top books of 2019: 

Ted Chiang's second collection of short stories came out, and he is truly what every science fiction writer should aspire to. Grounded in truth, Chiang explores human nature and inspires self-reflection. 

Given this came out in late 2018, I don't feel too bad about reading this in 2019. Obama touches on every step of her life up through her time in the White House. She offers humility, class and a graciousness noticeably absent today. 

Hanif Abdurraqib's collection of essays has been out for a couple years but it was this spring that I bought this at my local shop. For all of the restraint Michelle Obama displays in her book, Abdurraqib bears his heart and soul, exploring race and racism, class, pop culture and life in America all through the lens of music. No review can do this collection justice, but if you read anything on this list, make it this one. 

Another 2018 release that I finally got around to reading, Circe is a lovely and lyric take on classic mythology. Madeline Miller more than does justice to those tales that have shaped western storytelling.

I appreciate Abra Berens and her midwestern sensibility in this veggie-centered cookbook. Each chapter covers a vegetable, prepared in a few different ways, with a few different variations, which means there's something for everyone. And don't skip the essays framing each chapter; they provide a glimpse into where and how the recipes came to be. 

Little did I know how personal this book would become this year. I'm grateful to doctors like Mukherjee who undertake the incredible task of explaining our bodies, deepening the knowledge of everyday folks looking to learn. And for non-fiction nerds, he is one of the best.
Guinevere
I had a hard time getting into a reading groove this year. I abandoned more books than usual, in no small part due to the bleak backdrop of current events that made books like Milkman, Women Talking, Good and Mad, and The Testaments too depressingly relevant to finish. (I did finish The Testaments but wish I had that time back.) For several months early in the year, I felt like I was reading nothing but duds. Luckily, a few good books came along to right the ship. I've included them here in the hopes that they'll help anyone else who might need a pick-me-up as we head into 2020. 
City of Girls, by Elizabeth Gilbert
This was a delightful feminist romp through New York City between the wars, during the 1930s and 40s. It's a coming-of-age tale set in an off-Broadway theater filled with showgirls, actors, writers, composers, and costumers. The characters are drawn beautifully and the story is full of warmth, empathy, humor, and honesty. I loved it. 
Daisy Jones & the Six, by Taylor Jenkins Reid
If you're feeling nostalgic for high-waisted denim and the analog days of sex, drugs, and rock-and-roll, Daisy Jones and the Six will not disappoint. Written in the style of asynchronous interviews with the members of a band, Taylor Jenkins Reid's love letter to the 70s was inspired by the soap opera that was Fleetwood Mac's Rumours album. Sexual tension keeps the pages turning and each character is drawn with an exquisite range of flaws, desires, and emotions. The comic thread that Reid weaves throughout the book—conflicting memories and ego-driven retellings—is ultimately the greatest takeaway: that humanity's fundamental narcissism and universal lack of self-awareness will be our undoing.  
Home Remedies, by Xuan Juliana Wang
This collection of short stories centers on the lives of Chinese millennials. It's like Crazy Rich Asians meets Reality Bites for the Sephora generation. It made me feel old in a Thank God kind of way, though it did make me fear that my kid is going to take drugs that I don't even know the name of... (#GenX). The writing is punch-you-in-the-gut good. Xuan Juliana Wang was a Stegner fellow at Stanford and this is her debut collection. I can't wait to read what she does next.  
Season of the Witch, by David Talbot
This book is a riveting history of San Francisco from the 1960s through the 80s. David Talbot meticulously researched and pieced together a vivid portrait of the city through first-person interviews and primary sources. The book is a love letter to the city, opening at the dawn of the Summer of Love and then spiraling into the drugs, disillusionment, and dirty politics that followed over the next two decades. I've lived in the Bay Area for 25 years and was equal parts charmed and gobsmacked by how much I never knew. 
Ask Again, Yes, by Mary Beth Keane
Ask Again, Yes has all the ingredients I love in a novel: dysfunctional families, multiple generations, Irish cops, complicated characters, love, loss, redemption... like Franzen but likable and without the stench of male ego. 
The Library Book, by Susan Orlean
A masterfully written ode to libraries and the heroes who work there. Fascinating history of Los Angeles, arson, architecture, information science, book conservation, social services, and urban planning. There's a lot packed into this little book and I highly recommend it to any book lover.