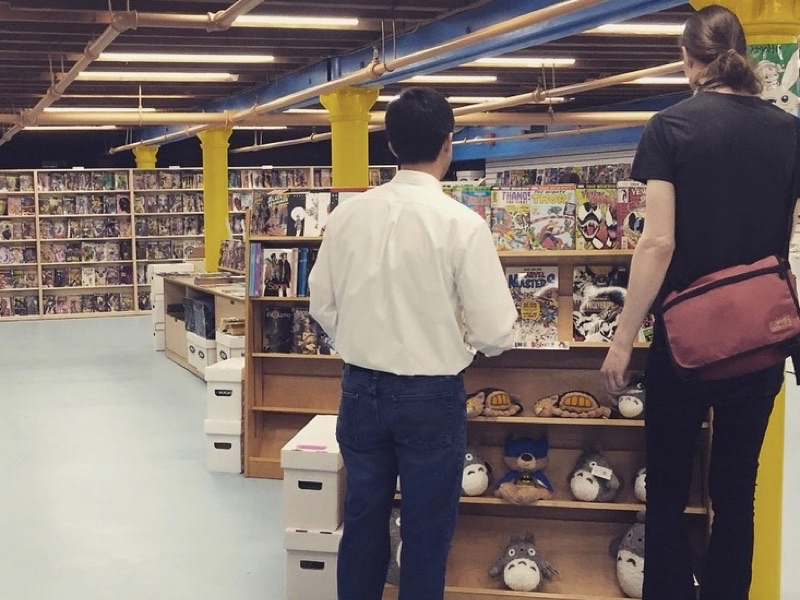 What really makes a bookshop? Is it the friendly and knowledgeable staff, the selection, the cozy corners, the beautiful old wooden bookcases, its cheeriness, the special sections, convenient location, or maybe the aroma?
In our continuing effort to help you find that great read, we are reaching out to the experts at independent bookstores across the country and around the globe for the reads they are recommending to bibliophiles right now.
In Portland, Maine, we are fortunate to have several independent shops including a few secondhand shops and a fantastic comic book store in Casablanca Comics. It is a welcoming spot, with staff who are excited to share their enthusiasm for comics and graphic novels.
This month, SBC Portland, Maine chapter member and the co-owner of Casablanca Comics—Laura—shares with us a few graphic novels she recommends.   
My two all-time favorite graphic novels:

Jeff Lemire both writes and illustrates Sweet Tooth which is the story of a post-apocalyptic world where the children are born part human and part another animal species. The entire Sweet Tooth series follows the deer-boy, Gus, from when his father dies to the end of his life. Lemire writes a wonderfully dark story that is infused with reasons to be hopeful. His writing also includes a wonderful range of stories to include Green Arrow, Wolverine Old Man Logan, Essex County, Descender, Black Hammer and more. They are all great reading!

Castle Waiting by Linda Medley
Linda Medley both writes and illustrates Castle Waiting which is a totally new take on the story of Sleeping Beauty from the point of view of the rest of the castle. Rather than being a fairy tale intended to scare children into behaving, it is a story of tolerance where the inhabitants left in the castle live together in an accepting and mutually helpful atmosphere where newcomers are welcome.
Two recently released graphic novels:  

Whereas Guy Delisle has previously written noteworthy autobiographical travelogues, Hostage tells the story of Doctors Without Borders administrator, Christophe Andre, who is kidnapped while working in the Caucasus region. Delisle tells the story from the point of view of the captive where one develops empathy for the captive and, surprisingly, captor. I was cold, hungry and scared with Andre and what one would think was monotous was extremely stressful. Delisle's autobiographical travelogues include Pyongyang, Shenzhen, and Burma Chronicles.

Unbeatable Squirrel Girl by Ryan North and Erica Henderson
Ryan North and Erica Henderson are the perfect team for reintroducing Squirrel Girl who is the most powerful superhero in the Marvel Universe. Doreen Green, Squirrel Girl, has the strength and agility of a squirrel as well as the ability to communicate with squirrels with her best squirrel friend being Tippie Toe. Squirrel Girl's strength's also include the ability to reason and empathize with villains. I also love that Doreen's best friend, Nancy, loves to knit! 
Stay tuned for more picks from genre experts. Or if you can't wait, ask your fellow Silent Book Club members at your next meet-up or online in our Facebook group.