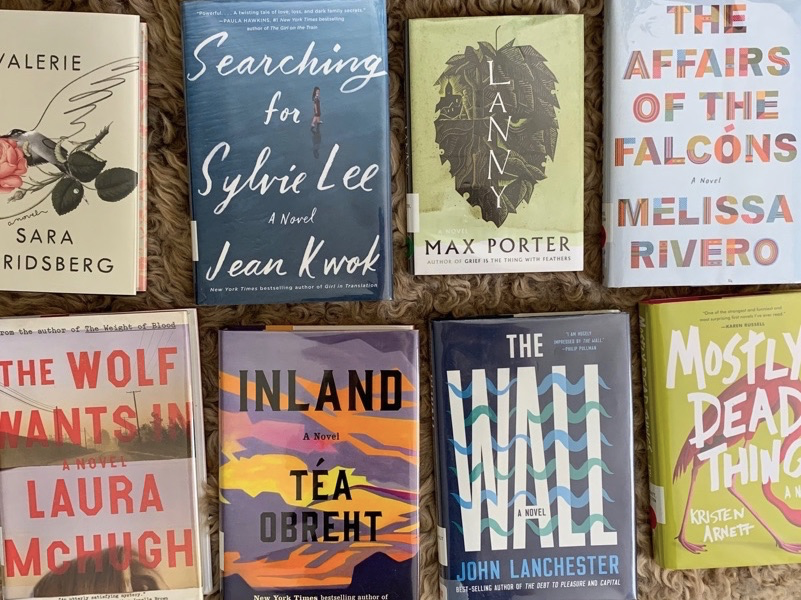 This post is from Sharon K., the organizer of the Portland, Maine SBC chapter. The group meets between 2-4 p.m. the second Sunday of January, February, April, May, September, and October at Tandem Coffee and Bakery at 742 Congress St.

Even when we are not meeting up our members are reading. Diving into the newest fiction and some of the great classic books. During these perfect autumnal days in Maine folks are making the most of being outside.
Aware of the days growing cooler and darker (early mornings can be rough!), I'll sit with a book in the park during my lunch break and turn pages on the porch on a chill Saturday. Autumn. Reading. Like maple syrup and pancakes, or chili and sour cream, some things just go perfectly together. Bonus, there is no shortage of cool new books right now! Here are a few I highly recommend:
A Woman is No Man by Etaf Rum
This is one of the most vivid and subtle things I've read this year. A stunning, deeply sad, propulsive book. It is the story of three generations of Palestinian-American women. Rum writes from a personal perspective about domestic violence and family loyalty.
Lanny by Max Porter
Longlisted for the Booker Prize. The short novel braids reality with a dark fairytale. It was one of the surprises of my reading year. It haunted me.
Stay Sexy and Don't Get Murdered by Karen Kilgariff and Georgia Hardstark 
I cannot shut up about this book. Every woman should read this in public! I started listening to it and picked up a copy. It's so deeply honest and real!! They bare it all from addiction to anxiety and eating disorders and instead of it being totally depressing it is uplifting as heck. This is not just a book for feminists. It is for all women. *I have yet to listen to their My Favorite Murder podcast, because honestly true crime stories kind of freak me out.
Miracle Creek by Angie Kim
Sometimes, while reading a book, I'll stop and think how brilliant is this story!? So, of course, it makes sense that this was one of the most anticipated books of 2019.
Here's the plot (direct from the publisher): In a small town in Virginia, a group of people know each other because they're part of a special treatment center, a hyperbaric chamber that may cure a range of conditions from infertility to autism. But then the chamber explodes, two people die, and it's clear the explosion wasn't an accident.
Told in several voices through the duration of the weeklong trial. Incredibly well-written. Highly recommend.
The Last Romantics by Tara Conklin
Without giving away too much (from the publisher) when the renowned poet Fiona Skinner is asked about the inspiration behind her iconic work, The Love Poem, she tells her audience a story about her family and a betrayal that reverberates through time. A beautiful book. Utterly enthralling. I found this book's unexpected layers and somewhat urgent pace part of the draw.
The Daughters of Temperance Hobbs by Katherine Howe
If you love historical fiction, especially that of Salem and involving witches, then Katherine Howe is your author du jour. I had been waiting ten years for the follow up to Howe's The Physick Book of Deliverance Dane. Both novels are about witchcraft in the late 17th century America (think Salem and Nathaniel Hawthorne), the relationship between past and present, and also the nature of historical research (process and recovery) itself. The second book really dives into the academic world and specifically the process of how academic institutions grant tenure. I completely lucked out and got to attend an interview with her at the local library. Guess I'll just have to satisfy my historical fiction/witchcraft/academic cravings till her next one (fingers crossed) with the tv series based on Deborah Harkness's All Souls Trilogy. Perfect fall timing witchy ones.
Searching for Sylvie Lee by Jean Kwok
Sylvie, the golden child of a Chinese-immigrant family, goes missing in the Netherlands. Her younger sister Amy, the sheltered baby of the family, travels there from New York City to find out what has happened and unearths a number of dark family secrets along the way. The novel alternates perfectly between the voices of Amy, Sylvie, and their mother Mrs. Lee. A mystery and a story about the immigrant experience. I did not even wait till I was done to start recommending this book. Really loved.
The Spies of Shilling Lane by Jennifer Ryan
Did you read Chilbury Ladies' Choir? Then you know how charming a storyteller Ryan is and how she can write strong women. Ok, she's also a pro at stories set during World War II. The plot follows Mrs. Braithwaite, the self-appointed queen of her English village, to London to find her missing daughter. She navigates the city during The Blitz with Mr. Norris, her daughter's timid landlord, creating quite a crime-solving twosome. Smart and special.
The Wolf Wants In by Laura McHugh
The very definition of a stay-up-all-night read. In a small Kansas town devastated
by the opioid epidemic, two young women confront dark secrets. At one point I
was so freaked out (I live in a small town and where is not affected by the opioid
epidemic) I got up at one point while reading and went about turning all the lights
on in the house. So, yeah maybe don't read home alone at night.

Five more I'd love to read: Inland by Tea Obreht, The Institute by Stephen King,
The Testaments by Margaret Atwood, Olive Again by Elizabeth Strout, and The
Night Fire by Michael Connelly.