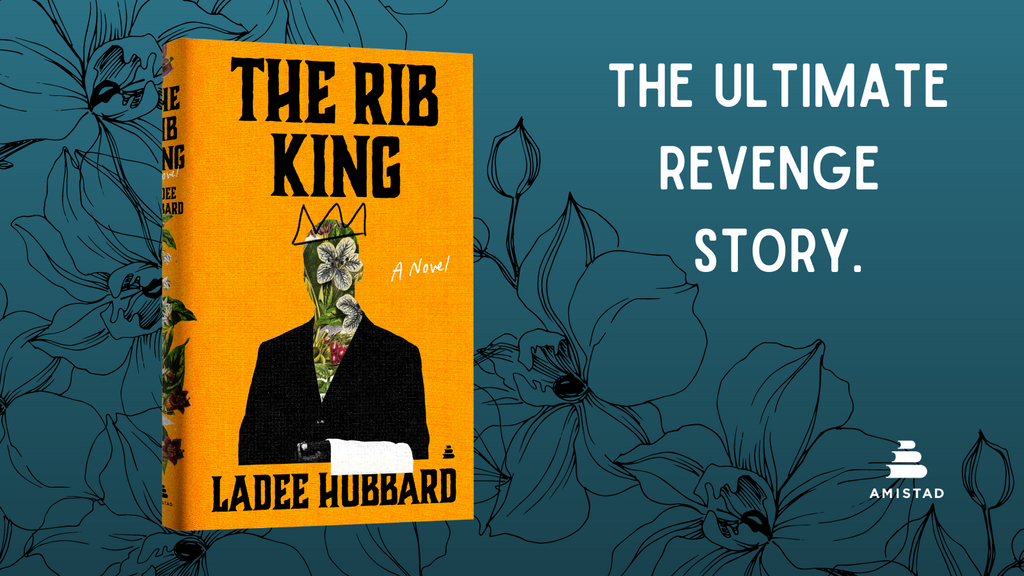 "Hubbard delivers a dazzling tour-de-force in this richly painted, perfectly timed meditation on privilege and fury." —Booklist (starred review)
The Rib King, an intricately woven historical novel, centers around the black servants of a down-on-its heels upper-class white family in the early 20th century. Author Ladee Hubbard masterfully deconstructs painful African American stereotypes and offers a fresh and searing critique on race, class, privilege, ambition, exploitation, and the seeds of rage in America.
Enter here for a chance to win one of 25 advanced reader copies of The Rib King, courtesy of Amistad Press.
About the book
For fifteen years August Sitwell has worked for the Barclays, a well-to-do white family who plucked him from an orphan asylum and gave him a job. The groundskeeper is part of the household's all-black staff, along with "Miss Mamie," the talented cook, pretty new maid Jennie Williams, and three young kitchen apprentices—the latest orphan boys Mr. Barclay has taken in to "civilize" boys like August.
But the Barclays fortunes have fallen, and their money is almost gone. When a prospective business associate proposes selling Miss Mamie's delicious rib sauce to local markets under the brand name "The Rib King"—using a caricature of a wildly grinning August on the label—Mr. Barclay, desperate for cash, agrees. Yet neither Miss Mamie nor August will see a dime. Humiliated, August grows increasingly distraught, his anger building to a rage that explodes in shocking tragedy. 
Elegantly written and exhaustively researched, The Rib King is an unsparing examination of America's fascination with black iconography and exploitation that redefines African American stereotypes in literature. In this powerful, disturbing, and timely novel, Ladee Hubbard reveals who people actually are, and most importantly, who and what they are not.
Buy the book
Order The Rib King on Bookshop.org, where 10% of every purchase supports independent bookstores.
Hardcover: 384 pages
Dimensions: 6.2 X 9.2 X 1.2 inches | 1.1 pounds
Publisher: Amistad Press
About the author
Ladee Hubbard is the author ofThe Talented Ribkins, which received the 2018 Ernest J. Gaines Award for Literary Excellence and the Hurston/Wright Legacy Award for Debut Fiction. Her writing has appeared in Guernica, the Times Literary Supplement, Copper Nickel, and Callaloo. She received a 2016 Rona Jaffe Foundation Writers' Award as well as fellowships from the MacDowell Colony, Art Omi, the Sacatar Foundation, the Sustainable Arts Foundation, Hedgebrook, and the Virginia Center for the Creative Arts. Born in Massachusetts and raised in the U.S. Virgin Islands and Florida, she currently lives in New Orleans with her husband and three children.
---
Giveaway rules: U.S. only, age 18+, no purchase necessary. Ends 11:59pm PST, 1/31/21. See full rules here