Silent Book Club Wishlist 2020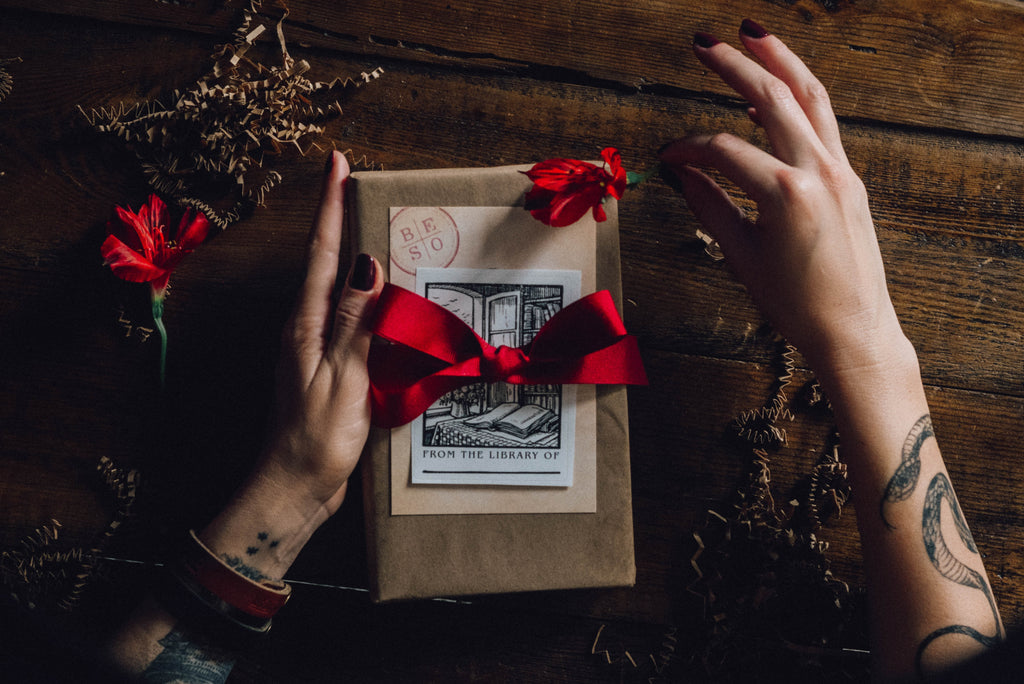 Silent Book Club is 100% volunteer-run. We may earn a small commission from links below to help us keep the lights on, but it won't cost you a penny. Thanks for supporting SBC!
As someone who considers gift-giving to be her primary love language, I couldn't be more excited to head into the most loving time of year. Not only do we get to celebrate winter holidays like Christmas and Hanukkah, but also end-of-year birthdays and celebrations. In this year's gift guide, we're sharing some of our favorite things to offer you gift ideas for the people you love.
We've included a shortlist of the best books we read this year, along with a wide range of bookish gifts to appeal to all the readers on your list. Keep an eye out for our "Santa's little helper" tips to make your gift extra special, or to make your shopping a little easier this year. It's 2020 after all. We could all use a helping hand.  
All the items below are Silent Book Club-approved, which means every purchase will support independent bookstores, BIPOC-owned businesses, and women entrepreneurs. 
As a thank you to our members, take 15% off everything in our store now through December 25th with discount code HOLIDAYS. (Does not apply to Silent Book Shop gift cards, but speaking of gift cards, those make an excellent gift...)
Here's wishing you a safe and restful holiday season! 


Fiction 
The Vanishing Half
, by Brit Bennett. A stunning new novel about twin sisters, inseparable as children, who ultimately choose to live in two very different worlds, one black and one white. 
Weaving together multiple strands and generations of this family, from the Deep South to California, from the 1950s to the 1990s, Brit Bennett produces a story that is at once a riveting, emotional family story and a brilliant exploration of the American history of passing
.
Looking well beyond issues of race, 
The Vanishing Half
 considers the lasting influence of the past as it shapes a person's decisions, desires, and expectations, and explores some of the multiple reasons and realms in which people sometimes feel pulled to live as something other than their origins.
Anxious People, by Fredrik Backman: A charming, poignant novel from the author of A Man Called Ove, this is a story about a crime that never took place, a would-be bank robber who disappears into thin air, and eight extremely anxious strangers who find they have more in common than they ever imagined. Each of them carries a lifetime of grievances, hurts, secrets, and passions that are ready to boil over. None of them is entirely who they appear to be. And all of them--the bank robber included--desperately crave some sort of rescue. As the authorities and the media surround the premises these reluctant allies will reveal surprising truths about themselves and set in motion a chain of events so unexpected that even they can hardly explain what happens next. 
You Had Me at Hola, by Alexis Daria: This smart, sexy romance stars Jasmine Lin Rodriguez, a soap opera darling hounded by tabloids, and Ashton Suarez, a paparazzi-shy telenovela star from Puerto Rico hoping for his Hollywood break. The two actors meet on set and sparks fly. Channeling the drama of a steamy telenovela, the writing is intentionally over-the-top and the sex scenes are hot—especially the ones featuring the on-set intimacy coach giving pointers on consent. Loved the Latinx cast and the diverse representation. It will leave you wanting more...
Tiny Imperfections, by Alli Frank and Asha Youmans:  At thirty-nine, Josie Bordelon's modeling career as the "it" black beauty of the '90s is far behind her. Now director of admissions at San Francisco's most sought after private school, she's chic, single, and determined to keep her seventeen-year-old daughter, Etta, from making the same mistakes she did. But Etta has plans of her own—and their beloved matriarch, Aunt Viv, has Etta's back. If only Josie could manage Etta's future as well as she manages the shenanigans of the over-anxious, over-eager parents at school. Very much relevant in these times, the authors skewer lawnmower parents, tech bros, and white privilege.  
Florence Adler Swims Forever
, by Rachel Beanland: 
Atlantic City, 1934.
 Florence Alder has returned from college, determined to spend the summer training to swim the English Channel, while her sister Fannie, pregnant again after recently losing a baby, is on bedrest. 
When tragedy strikes, their mother Esther makes the shocking decision to hide the truth—at least until Fannie's baby is born—and pulls the family into an elaborate web of secret-keeping and lies, bringing long-buried tensions to the surface that reveal how quickly the act of protecting those we love can turn into betrayal
. 
Non-fiction 
A Promised Land, by Barack Obama: In the highly anticipated first volume of his presidential memoirs, Obama tells the story of his improbable odyssey from young man searching for his identity to leader of the free world, describing in strikingly personal detail both his political education and the landmark moments of the first term of his historic presidency—a time of dramatic transformation and turmoil.
Santa's little helper: Obama himself narrates the audiobook, so fans who want to hear the story straight from his mouth will want to pick up the audio version. SBC members who sign up for a new subscription to Libro.fm, get 2 audiobooks for the price of 1. You can also purchase gift subscriptions for 3, 6, or 12 months. Enter code SBC at checkout.
Caste: The Origins of Our Discontents, by Isabel Wilkerson: In this brilliant book, Isabel Wilkerson gives us a masterful portrait of an unseen phenomenon in America as she explores, through an immersive, deeply researched narrative and stories about real people, how America today and throughout its history has been shaped by a hidden caste system, a rigid hierarchy of human rankings. Linking the caste systems of America, India, and Nazi Germany, Wilkerson explores eight pillars that underlie caste systems across civilizations, including divine will, bloodlines, stigma, and more. 
Everything She Touched: The Life of Ruth Asawa, by Marilyn Chase: We spoke with author Marilyn Chase earlier this year; her biography of Ruth Asawa includes a shameful chapter of U.S. history, jailing citizens in Japanese internment camps during WWII. Asawa moved beyond this to become a renowned sculptor and educator. 
Santa's little helper: After this last election, we'll never take the USPS for granted again. Get creative with your holiday cards this year by adorning them with these gorgeous Ruth Asawa forever stamps, and maybe leave out some cookies and a thank you card for your mail carrier. 
French Wine, by Rod Phillips: French Wine is the essential reference on French wine for collectors, consumers, sommeliers, and industry professionals. The book traces the history of wine in France from Etruscan, Greek, and Roman imports to its present status within the global marketplace. 
Santa's little helper: Pair this with the French wine subscription box below, and you'll not only have something to wrap, but a gift that keeps on giving throughout the year.
March, by John Lewis, Andrew Aydin, and Nate Powell: Congressman John Lewis was a leader in the American Civil Rights Movement. He was chairman of the Student Nonviolent Coordinating Committee (SNCC) and played a key role in the struggle to end segregation. Despite more than 40 arrests, physical attacks, and serious injuries, John Lewis remained a devoted advocate of the philosophy of nonviolence. This is his story, in graphic novel form. 
Gifts for book lovers
Books Saved My Life Hoodie: History was made in Philadelphia this year so we're celebrating Philly's independent, Black-owned bookstore, Uncle Bobbie's Coffee & Books. Founded by Marc Lamont Hill in 2017, Uncle Bobbie's was created to provide underserved communities with access to books and a space where everyone feels valued. Their store windows were smashed more than once during protests, so join us in sending some love and money their way.    
Raise a Reader Ceramic Ornament: Deck the halls, ring in the Yule, and celebrate the season with this cheerful ceramic ornament, perfect for book lovers of all ages. It features custom artwork created for Silent Book Club by French illustrator Ophélie Ortal.
Books Before Boys Sticker, by Gold Hoops Studio: Books before boys? We solidly endorse this message from Chicago-based artist Lannie Dee. 
Santa's little helper: You can find more Black-owned businesses like Gold Hoops Studio to support on Etsy. 
All Readers Welcome Socks: Make your solo Silent Book Club a little more cozy with these lightweight socks depicting readers of all kinds, featuring a design by artist JinJin Sun.
Santa's little helper: Take 15% off now through December 25th with discount code HOLIDAYS.  
Book Smart Art Print: Karina Daniel Parris is a Kentucky-based artist who was born in Panama. Her family immigrated to the US when she was 7, and she was raised in Atlanta, GA. Her Etsy shop, Lovely Earthlings, features a colorful array of artwork and stationery. .
Santa's little helper: Order by Dec. 3 and get 20% off everything in her Etsy store!
Raise a Reader Onesie: Start them young with a love of books! This 100% cotton onesie is soft and durable to withstand lots of washing and wiggling for babies on the move. Features custom artwork created by French illustrator Ophélie Ortal. 
Santa's little helper: Take 15% off now through December 25th with discount code HOLIDAYS. 
Custom Bookplate Stamp: Personalize your books and make sure your favorites find their way home with this handmade bookplate stamp! Customize your name and choose from three styles: a wood handle, flat wood mount, or self-inking stamp.
Santa's little helper: Christmas orders must be placed by Dec. 1!
Sorry, I'm Booked T-shirt: Introverts, we've got your back. This soft cotton-blend t-shirt will shout to the world that you are not to be interrupted while you're reading. Available in your choice of 7 colors.
Santa's little helper: Take 15% off now through December 25th with discount code HOLIDAYS.
Cativa Reading Glasses: The amount of time I've spent staring at a screen in 2020 has completely wrecked my eyesight. Suddenly I'm the lady who leaves cheaters in every room. Luckily there are cute (and cheap) options online. My current favorites are the Cativas from ICU. Perfect mix of classic tortoise shell with a pop of color. 
Santa's little helper: SBC members can get 10% off all glasses with the code ICU10.
Sorry I'm Booked e-Reader / Book Pouch: Bring your eReader on the go and keep it safe from scratches. Think of it as a dust cover for your Kindle, Nook, Kobo, or iPad. Also great for protecting hardcovers and paperbacks from scuffs and spills!
Santa's little helper: Take 15% off now through December 25th with discount code HOLIDAYS. 
Library Throw Pillow, by Emily Rickard: Cozy up on the couch with a throw pillow inspired by book spines. Such a great pop of color to add to your favorite reading nook.
Santa's little helper: 40% off Cyber week sale ends Friday, Nov 27.
Happy Place Tumbler: When your head is inside of a book, it's important to stay hydrated. This stainless small-size tumbler is durable and vacuum-insulated to keep your drinks cool or warm while you read. Features custom artwork created by French illustrator Ophélie Ortal for Silent Book Club.
Santa's little helper: Take 15% off now through December 5th with discount code HOLIDAYS.
Comic Book Kit, by Kid Made Modern: Perfect for the kid obsessed with graphic novels, this kit has everything they need to create hilarious misadventures or epic superhero stories. Includes two 24-page books with blank cells, washable markers, stencil templates for type and bubbles, 5 rubber stamps, and 3 foam ink pads.
Santa's little helper: Save 20% with code CYBER through Nov. 30.
Subscriptions
somMailer Wine Subscription: Get exclusive wines from handcrafted French vineyards shipped right to your home. With every shipment you'll learn all about the wine included, with stories about the vineyard, the winemaker, and the different grape varieties used. You can choose red, white, or a mix of both.  
Santa's little helper: Save 10% when you enter the code BONJOUR10 at checkout. Salut!
Introverts Retreat Book Subscription Box: Each month you'll receive a book in your genre of choice, a bookmark, a hand-poured candle, plus bath salts or a bar of handmade soap. In addition, you'll receive a sweet or savory snack, and your choice of coffee, loose leaf tea, or cocoa. Bliss!
Santa's little helper: Use code LEAVEMEALONE at checkout to get 10% off your first purchase! 
Jambo Book Club: A multicultural book club for children, Jambo sends your child two books each month that feature a child of color as the star. These books are inclusive of our modern communities and are sure to engage your children's imaginations. Choose from three age ranges: 3-4, 5-6, and 10-13.
Booklandia Subscription Box: Bridging the gap in Spanish and bilingual literacy for young readers, Booklandia's vision is to assist in creating beautiful, representative and inclusive home libraries for children. Board book, picture book, and chapter book subscriptions are available, or you can customize a box to meet your family's needs.