Where are all the women in science?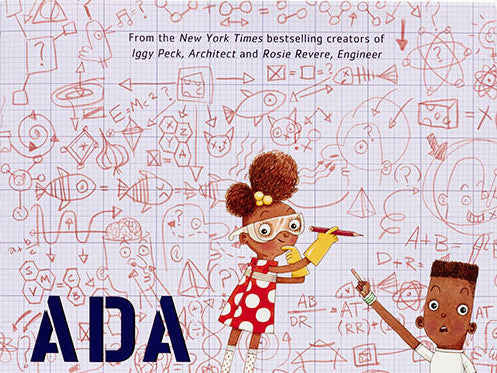 Where are all the Women in Science?
Contemporary children's literature is doing a pretty good job of making sure that young girls not only see themselves in books, but also see their potential in print. Don't get me wrong, there is still work to be done to balance out the ratio of heroes to heroines—take princesses out of the equation and we're nowhere near 50/50—but movements like We Need Diverse Books have made headway over the past few years.
There are heaps of picture books out there like Ada Twist, Scientist that feature kick-ass girls who dominate in STEM (science, technology, engineering, and math). But as you move up from middle grade fiction through YA and into adult literature, the ranks of women in science—not science fiction or fantasy but real, actual, scientists solving problems in our world—plummet.
Non-fiction books about female scientists are much easier to find. Lab Girl, by Hope Jahren, was a fantastic memoir. Silent Spring by Rachel Carson started a revolution. And Hollywood loves turning these underdog stories into blockbusters. Look at Gorillas in the Mist, The Immortal Life of Henrietta Lacks, and Hidden Figures, to name just a few.
But where are the female scientists in fiction? Is it a lack of imagination on the part of authors? Is it resistance from editors and publishers? Is sexism so entrenched in our society that we, as readers, cannot suspend our disbelief that a woman with a scientific brain could carry the emotional arc of a literary novel? I hope that's not the case. I hope, for the sake of all those girls growing up with STEM coming out their ears, that we grown-ups can get our acts together and imagine a future filled with female scientists in fiction.
Here are seven female scientists in fiction. They shouldn't have been this hard to find.
State of Wonder by Ann Patchett
Dr. Marina Singh descends into the Amazon searching for her former mentor, a researcher who disappeared while working on a valuable new drug. As she embarks upon an uncertain journey into the insect-infested Amazon, she must confront her own memories of tragedy and sacrifice, and surrender herself to the forbidding world that awaits in the jungle.
The Signature of All Things by Elizabeth Gilbert
Born in 1800, Alma Whittaker is the daughter of a wealthy and charismatic botanical explorer. She becomes an exceptional botanist herself, but as her careful studies of moss take her deeper into the mysteries of evolution, the man she loves draws her in the opposite direction—into the realm of the spiritual, the divine, and the magical.
The Prodigal Summer by Barbara Kingsolver
Three love stories are woven together in this novel set in the forested mountains and small farms of Appalachia. At the heart of these intertwined narratives is a den of coyotes that have recently migrated into the region. Deanna Wolfe, a reclusive wildlife biologist, watches them from her outpost in an isolated cabin where she is caught off-guard by a young hunter who confounds her self-assured, solitary life.
Remarkable Creatures by Tracy Chevalier
Mary Anning has a talent for finding fossils. Her discovery of ancient marine reptiles such as the ichthyosaur shakes the scientific community and leads to new ways of thinking about the creation of the world. But as a working-class woman in 19th-century England, she struggles to make her way in a society, and scientific field, dominated by men. 
A Perfect Life, Eileen Pollack
A young researcher at MIT, Jane Weiss is working to discover the genetic marker for Valentine's Disease, a neurodegenerative disorder. Her pursuit is deeply personal—the disease killed her mother, and she has a fifty percent chance of developing it, too. When she falls in love with a man whose father also died from Valentine's, Jane becomes obsessed with finding the DNA clues that may threaten—or save—both of their families.
The Movement of Stars: A Novel, Amy Brill
It's 1845 in Nantucket and Hannah Gardner Price's goal is to discover a comet and win a gold medal from the King of Denmark, something unheard of for a woman. When she meets a young whaler who shares her interest in the stars, she agrees to take him on as a student. Their relationship challenges her beliefs about work and love, and ultimately will change the course of her life.
A Wrinkle in Time, Madeleine L'Engle
I said I wasn't going to bring science fiction and fantasy into this, but I'm making an exception for Madeleine L'Engle. In 1959, she was reading about quantum physics when she was inspired to write the book. It was rejected by 26 publishers. L'Engle surmised that it was because the story was "too different" and featured a female protagonist. Not to mention a microbiologist mother and a trifecta of brilliant women (Mrs. Who, Mrs. Whatsit, and Mrs. Which). Granted, those three turn out to be billion-year-old witchy centaur star ladies, but still. Squad goals.
---
A version of this post was first published on Read it Forward.