Virtual Author Chat with Catherine Adel West & Vera Kurian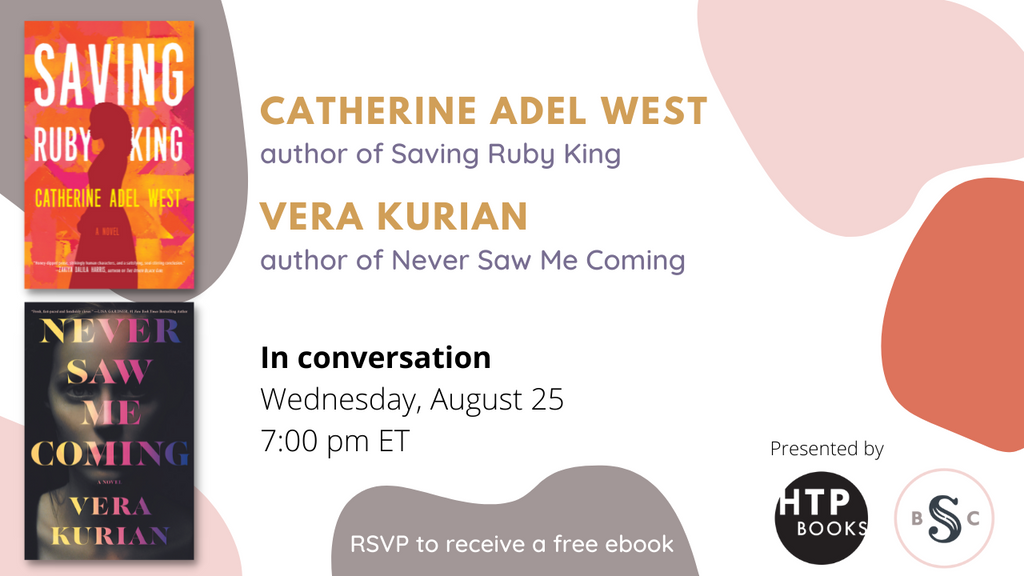 Join us online on Wednesday, August 25 at 7pm ET, for a conversation with Catherine Adel West, author of Saving Ruby King, and Vera Kurian, author of Never Saw Me Coming. 
Silent Book Club Online host Abbey Lile-Taylor interviews the authors about their debut novels, writing fiction in turbulent times, and their journeys to becoming published authors. Presented by HTP Books, this event is free for all Silent Book Club members.
Each attendee will receive their choice of a free ebook by one of the authors, delivered after the event. Read about the books and authors below, and RSVP online to reserve your spot and receive the Zoom link to join the conversation on August 25th.
Register here | Submit a question for the authors
About the books
Saving Ruby King by Catherine Adel West
"In the midst of widespread protests and calls to end racial injustice, the conversations and understanding tackled in Saving Ruby King are all significant reflections of this country's reality today." — Parade Magazine

"Family, friendship, secrets...this rich, suspenseful page-turner has it all." — Woman's World

"Incorporating compelling perspectives, this is a powerful story of family, faith and friendship." — MS. Magazine
When Ruby King's mother is found murdered in their home in Chicago's South Side, the police dismiss it as another act of violence in a black neighborhood. But for Ruby, it's a devastating loss that leaves her on her own with her violent father. While she receives many condolences, her best friend, Layla, is the only one who understands how this puts Ruby in jeopardy.
Their closeness is tested when Layla's father, the pastor of their church, demands that Layla stay away. But what is the price for turning a blind eye? In a relentless quest to save Ruby, Layla uncovers the murky loyalties and dangerous secrets that have bound their families together for generations. Only by facing this legacy of trauma head-on will Ruby be able to break free.
An unforgettable debut novel, Saving Ruby King is a powerful testament that history doesn't determine the present and the bonds of friendship can forever shape the future.
Never Saw Me Coming by Vera Kurian 
"Fresh, fast-paced and fiendishly clever! If you love watching true crime and wonder about the psychopaths among us, this is the book for you!" — Lisa Gardner, #1 New York Times bestselling author
It would be easy to underestimate Chloe Sevre... She's a freshman honor student, a legging-wearing hot girl next door, who also happens to be a psychopath. She spends her time on yogalates, frat parties and plotting to kill Will Bachman, a childhood friend who grievously wronged her.

Chloe is one of seven students at her DC-based college who are part of an unusual clinical study of psychopaths—students like herself who lack empathy and can't comprehend emotions like fear or guilt. The study, led by a renowned psychologist, requires them to wear smart watches that track their moods and movements.

When one of the students in the study is found murdered in the psychology building, a dangerous game of cat and mouse begins, and Chloe goes from hunter to prey. As she races to identify the killer and put her own plan for revenge into action, she'll be forced to decide if she can trust any of her fellow psychopaths—and everybody knows you should never trust a psychopath.

Never Saw Me Coming is a compulsive, voice-driven thriller by an exciting new talent in fiction that will keep you pinned to the page and rooting for a would-be killer.
Register here | Submit a question for the authors
About the authors
Catherine Adel West graduated with both her BA and MA in journalism from the University of Illinois, Urbana-Champaign. Her work has been published in Gay Magazine, Black Fox Literary Magazine, Five2One, Better Than Starbucks, and others. Catherine was born and raised in Chicago. Saving Ruby King is her debut novel.
Vera Kurian is a psychologist and longtime resident of Washington, DC. She has a doctorate in social psychology, specializing in intergroup relations, political ideology, and quantitative methods. She has been nominated for a Pushcart Prize and was a semifinalist for the Mark Twain Royal Nonesuch Humor Writing Contest.