Running a Topical Silent Book Club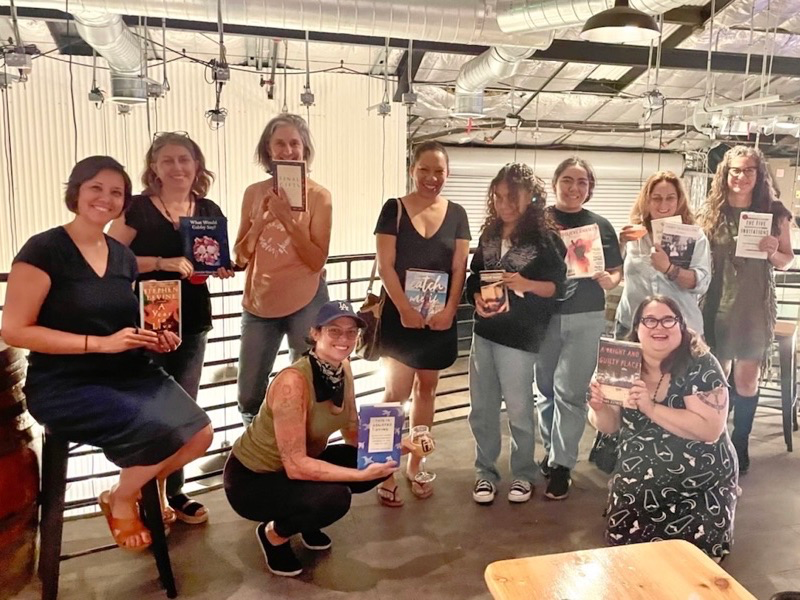 Got a hobby or special interest? Macrame? Scrimshaw? Deep sea diving? Interested in combining that interest with a Silent Book Club?
As the first topical Silent Book Club, we wanted to share some tips on how to combine your desire to gather a community, with a desire for introversion and companionable silence.
For context: we are a collective of death positive workers who wanted to gather people interested in reflecting on their mortality, in the company of polite bookworms.
Catherine

 
had previously launched local Silent Book Clubs, and wanted to try the same for a topical SBC.
We recommend:
*
Be interested and interesting
. Model being a thoughtful host and welcome guest: greet each arrival, giving them space to be whatever level of engaged they are most comfortable with. Most people are nervous to attend a new event and are happy to be invited in with thoughtful questions and conversations. Mingle, rotate between tables. It's a privilege and responsibility to be a welcoming and thoughtful host. Care for your community and they will care for you. If you're not sure how to get a conversation going, you can always start with: how did you hear about this club? What got you interested in attending? 
*
Thoughtful logistics are a way of showing care
. Start and end on time. Include venue and location within the space (eg 6:30pm on the mezzanine) on the flyer, graphic, and meeting invitation. 10 minutes before quiet reading begins, we like to gather in a circle, have each person briefly introduce themselves and what they're reading that evening, to inspire To Be Read lists and conversation after silent reading ends. We also collect a list of what books were read to post online the next day, for anyone who couldn't attend but wants to place holds at their local library or buy from their local bookshop.
*
Decorate
. Have thematic elements relevant to your hobby? Set up a decorated table as people arrive, to bring a sense of fun and welcome as a greeting. It also gives people a place to browse and reflect in silence, if they're warming up to feeling social. This doesn't have to be as elaborate as a parade float - thrifted items and items from dollar stores are more than sufficient.
*
Don't be discouraged if it takes you a while to find the right venue
. One chapter of Silent Book Club we organized went through 4 venue changes before finding a permanent home. If a venue doesn't respond to your initial email, follow up at least once more via email, in person if you can. Everyone is busy, and communication can easily slip through the cracks. Not every experiment will be a success.
*
Don't assign reading, do bring a stack of books to browse
. In keeping with the ethos of Silent Book Club, we don't assign reading. We are format agnostic: people can bring Kindles or listen to audiobooks - with headphones, of course. We bring a stack of books for people to browse at events, as a way to get inspired and talk with your fellow attendees about books you've been meaning to read.
We also have a virtual bookshelf that everyone can review online.
*
Let a thousand flowers bloom
. You might find that by creating a topical Silent Book Club, others express an interest in doing so in their local community. This is great! Direct them to the main Silent Book Club chapter and encourage them to DIY a circle in their own cities.
*
Partner with other organizers and try to cluster events together
. This helps get the word out, and gives people an opportunity to try different kinds of events and communities to find which might be the best fit for them. In October, we'll be hosting three weeks of consecutive death positive events in southern California:
* 10/19, Silent Book Club of Death,
Lawless Brewing
, NoHo
* 10/26, Death Deck Game Night,
Guildhall
, Burbank
* 11/2, Silent Book Club of Death,
Lawless Brewing
, NoHo
Come say hello if you're ever around Los Angeles. We'd love to see you at a future event. Happy reading!