Join us for a Jane Austen Tea Party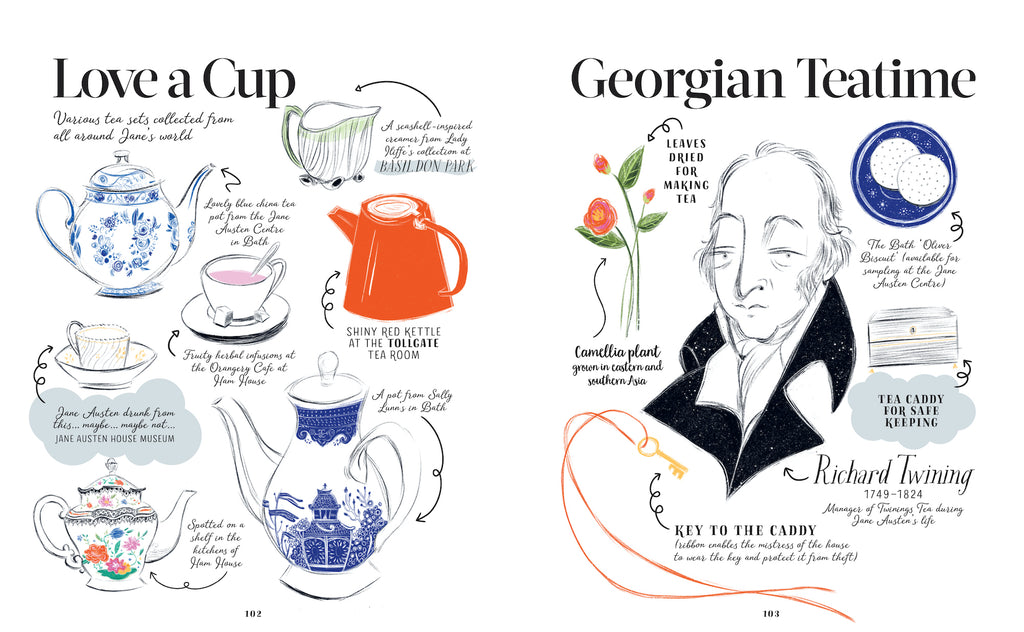 On Saturday, August 29, join us for a virtual tour of Jane Austen's England courtesy of Nicole Jacobsen, Devynn MacLennan Dayton, and Lexi K. Nilson, the authors of Jane Was Here: An Illustrated Guide to Jane Austen's England. Pour yourself a cuppa and tune in to our Zoom tea party at 11am Pacific, 2pm Eastern.
RSVP here and enter to win a Jane Austen prize pack!
As much as we'd love to embark on a Jane Austen pilgrimage though the English countryside, for the time being we'll have to settle for some armchair travel. Whether you have a well-worn collection of clothbound classics or you prefer your Pride & Prejudice served with a side of Colin Firth, our virtual tea party welcomes all Austen fans to raise a pinky to Jane. (Bonnets are optional.)
RSVP today and enter to win our Jane Austen prize pack! You and a friend will receive a copy of Jane Was Here, a set of Jane Austen stationery, and a sheet of 20 US Postage Stamps. Host your own socially distanced book club in a manner fitting Regency-era England—by correspondence! 
About the book
Jane Was Here is a whimsical, illustrated guide to Jane Austen's England—from the settings in her novels and the scenes in the wildly popular television and film adaptations, to her homes and other important locations throughout her own life.
Discover the stately homes of Basildon Park and Ham House and the lush landscapes of Stourhead and Stanage Edge. Tread in Jane's footsteps as you explore her school in the old gatehouse of the ruined Reading Abbey; her perfectly-preserved home in her Chawton cottage, where she spent the last eight years of her life; or her final resting place in Winchester Cathedral.
Whether you want to take this book as your well-thumbed guide on a real Austenian pilgrimage of your own, or experience the journey from the comfort of your own living room, Jane Was Here will take you—with a tone as wry as Jane's itself—on an enchanting adventure through the ups and downs of the world of Jane Austen.
Buy the book
 
Hardcover: $20.99
Publisher: Hardie Grant Books
Pages: 128
Dimensions: 8.4 X 0.7 X 6.7 inches | 1.1 pounds
Order the book on Bookshop.org where 10% of every purchase supports independent bookstores.