Rethink: Smashing the Myths of Women in Business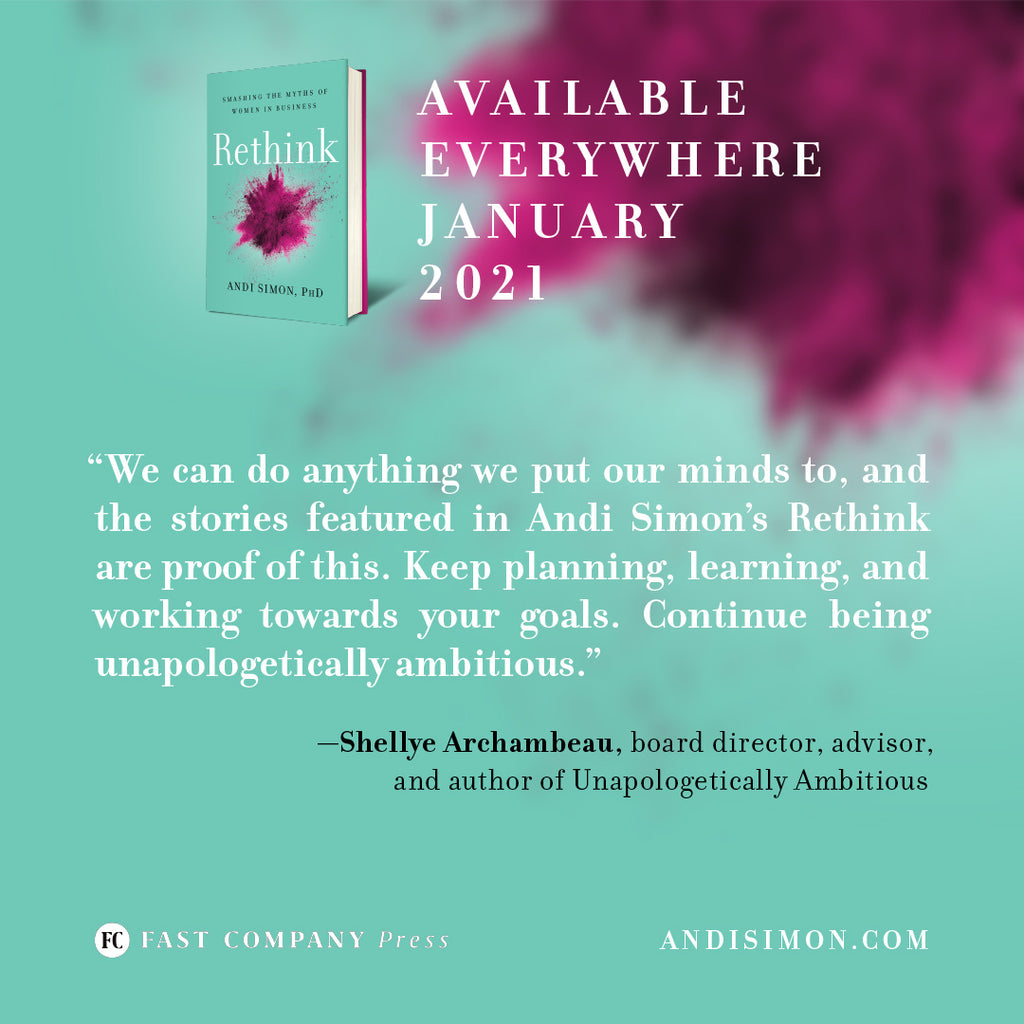 Today, women are challenging long-held beliefs about what they can and cannot do. Debunking the theories that women evolved to stay in the home to care for children so men could go off to hunt, more and more women are disavowing genetic determinants and showing how they can do everything men can do, albeit differently, and often better.
In Rethink: Smashing the Myths of Women in Business, Andi Simon tells the stories of 11 women from different industries who opened up the possibilities for their professional careers and personal lives by being authentic, taking risks, and pushing past the obstacles others placed before them. These are stories that tell of innovation, show how women rise, and ignite change.

Andi Simon, a corporate anthropologist, an award-winning author, and a successful entrepreneur, debunks myth after myth as she profiles the women in the book and offers key wisdom, insights, and observations through her unique lens. 
Too often, myths about women are used to keep them out of leadership roles in business. Simon writes, "Women are seen as dependable rather than visionary. They also tend to be uncomfortable with self-promotion and are more likely to be criticized when they do grab the spotlight. Men remain threatened by assertive women. Most women are not socialized to be unapologetically competitive. Those who thought they were on their way to somewhere important get discouraged. They begin to wonder what they are really trying to do—and why it is so hard to find purpose and meaning in the positions they thought were important to pursue."
This book isn't only about the 11 women who are pushing boundaries and transforming business, culture, and society; it's about inspiring all women to achieve and showing them a way to launch forward. Rethink provides the tools and framework for questioning society's norms, challenging our own current thinking, and smashing the preconceived notions about women that can so often hold us back from realizing our goals and dreams. In this book, you'll learn how to take a hands-on approach to examining and rethinking your own personal and professional life in order to recognize your fuller potential.
Enter here for a chance to win one of 6 copies of Rethink that we're giving away in partnership with Greenleaf Book Group. 
About the book: